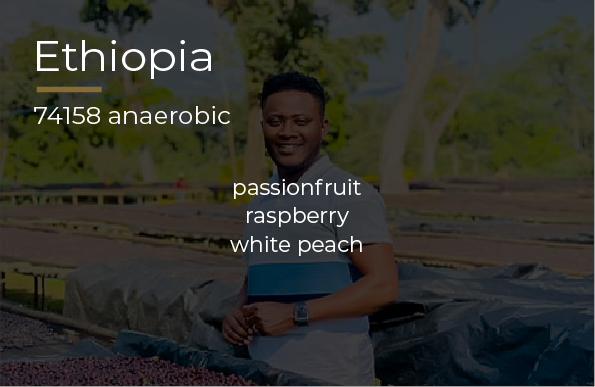 Tamiru Tadesse Chilaka
Regular price
¥4,250
Sale price
¥4,500
Degassing

Degassing: we recommend degassing this coffee unopened for at least 45days. Best from 60days to 90days post roast.*depending on the storage condition. For details please refer to our storage page.
Caution

*Though we are sorting out defects after roasting and our greens have passed through mechanical/hand sorting at farm level, small stones can be found in coffee beans, it's not harmful to health as it's roasted but please sort them before grinding to avoid risk damaging your grinder just in case.
Cupping review
This anaerobic honey Ethiopia accentuates the terroir(character of 74158) the best. Chilaka delight with passionfruit then sweet notes of raspberry and vibrant peach flavors in the finish.

Details

Tasting notes: passionfruit, raspberry, peach
Coffee type: very clean, bright, transparent, competition, intense flavors
Altitude: 2360-2460 m.a.s.l
Area: Chilaka village, Bensa, Sidama, Ethiopia
Variety: 74158
Producer: Tamiru Tadesse Tesema
Process: anaerobic natural
Roasted for espresso and filter
Wholebeans(100g or 250g NET)
Tamiru Tadesse Tesema
Tamiru is well known for his incredible results in the Cup of Excellence competition. He won the 1st place and 5th place of COE 2021 at a time. Actually, his winning coffee was anaerobic natural 74165 and the 5th place was 74158 natural. Even though he became one of the most celebrated producers in the world, he is really ambitious that he installed some equipments for experimental processing. We are so thrilled to carry his new project lot!
74158&Chilaka project
As long as we've tried, 74158 cultivar delivers very transparent flavor experience with notes of peaches and melons(mostly white peach and honeydew). We do see the very iconic peach flavors of this cultivar in the aftertaste and also this amazing processing accentuate the brightness of this cultivar with the terroir.