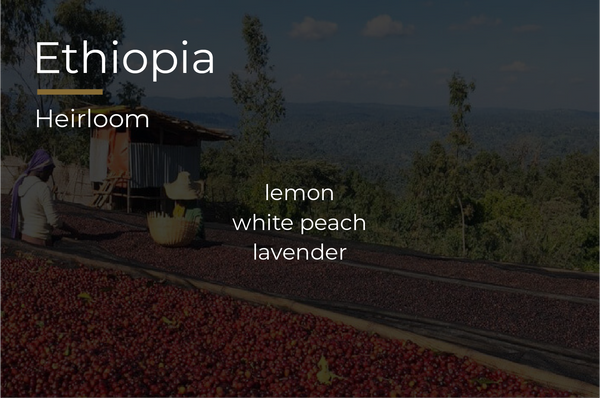 Tabe Burka
Degassing

Degassing: we recommend degassing this coffee unopened for at least 45days. Best from 60days to 90days post roast.*depending on the storage condition. For details please refer to our storage page.
Caution

*Though we are sorting out defects after roasting and our greens have passed through mechanical/hand sorting at farm level, small stones can be found in coffee beans, it's not harmful to health as it's roasted but please sort them before grinding to avoid risk damaging your grinder just in case.
Cupping review
Tabe Burka delights with pretty vibrant flavors that is consistent throughout. Expect lemon then white peach and vibrant lavender florals in the finish.
Details
Tasting notes: lemon, white peach, lavender
Coffee type: vibrant, floral, medium body, consistent towards the aftertaste, bright yet delicate acidity, lingering sweetness
Altitude: 1800-2000 m.a.s.l
Area: Uraga, Guji, Ethiopia
Variety: heirloom
Producer: Tadesse Elema
Process: washed
Roasted for espresso and filter
Wholebeans(100g or 250g NET)
Uraga terroir 
It's been a while for us to offer an Uraga coffee. The last time was Layo Teraga in 2018 yet we have always been seeking for any occasions to offer a Uraga coffee. In our experience, Uraga coffee is bold and intense with a relatively rich body for a Ethiopia. In fact, this lot also offers vibrant flavors with medium body and thick mouthfeel.