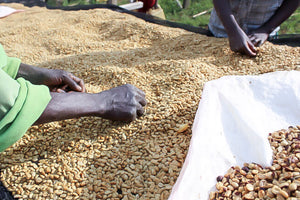 Apollon's Gold Specialty Coffee
Nemba
Sale price Price ¥1,200 Regular price Unit price / per
Tasting notes: melon, orange flowers, peach
Coffee type: super vibrant, floral
Altitude: 1818 m.a.s.l
Area: Kayanza, Burundi
Variety: Bourbon
Producer: Nemba CWS
Process: washed
Roasted for espresso and filter
Wholebeans(100g or 250g NET)
Degassing: we recommend degassing this coffee unopened for at least 45days. Best from 50days to 70days post roast.
Nemba is back!
Following so many positive feedbacks on Nemba last year, we purchased an amazing coffee from Nemba this year again! This year's Burundi coffees are truly amazing. like wise Rugori, we can honestly say this lot is one of the best Burundi coffees we've ever roasted (even including Cup of Excellence top 10 coffees); perhaps the most vibrant flavors from Burundi we've ever had as well.
Through GREEN CO, this is our 2nd purchase of Nemba coffee which is renowned as one of the best coffees in Burundi as they won the Cup of Excellence several times.
Cupping review
Nemba of this year is insanely good and it's going so well with our current roasting style. Opening up with bursting flavors of melon, followed by vibrant notes of orange and orange flower notes; all those flavors lead the way to sweet peach in the finish. 

*Though we are sorting out defects after roasting and our greens have passed through mechanical/hand sorting at farm level, small stones can be found in coffee beans, it's not harmful to health as it's roasted but please sort them out before grinding to avoid risk damaging your grinder just in case.