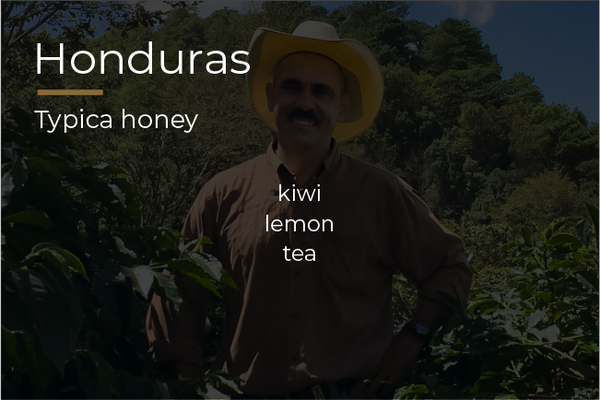 Los Pinos
Regular price
¥2,600
Sale price
¥3,000
Degassing

Degassing: we recommend degassing this coffee unopened for at least 45days. Best from 60days to 90days post roast.*depending on the storage condition. For details please refer to our storage page.
Caution

*Though we are sorting out defects after roasting and our greens have passed through mechanical/hand sorting at farm level, small stones can be found in coffee beans, it's not harmful to health as it's roasted but please sort them before grinding to avoid risk damaging your grinder just in case.
Cupping review
Los Pinos is a plethora of bright fruit tones. Expect juicy kiwi followed by vibrant flavors of lemon and lemon grass, followed by refreshing tea notes in the aftertaste.

Details

Notes: kiwi, lemon, lemongrass, tea, mint
Producer: Orlando Carvajal
Area: Lempira, Honduras
Altitude: 1600-1800m.a.s.l
Variety: Typica("Typica Carvajal")
Process: honey
Roasted for espresso and filter
Whole beans(100g or 250g NET)
Most successful Typica in COE
This is our 3rd purchase of the honey process Typica from Orland Carvajal. His Typica is renowned for its flavor intensity and he has been competing in the Cup of Excellence with the great continuous success for several years, including the 2nd place in 2018 an 2021. In fact, his Typica natural process also won the 7th place of COE this year. As he says he is especially passionate about the honey process and his honey process Typica is our favorite, we keep purchasing this coffee. We are pleased to offer this amazing Typica again!

Typica Carvajal
Since his Typica is as flavorful as a Geisha, some experts say his Typica has special genetics and some local professionals call it "Typica Carvajal" with respect to Carvajal. This year's lot is also very intense with some vibrant flavors of kiwi, lemon and some tea and refreshing herb notes.