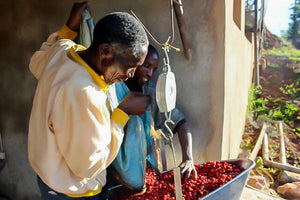 Apollon's Gold Specialty Coffee
Rugori
Sale price Price ¥1,200 Regular price Unit price / per
Tasting notes: lemongrass, white grapefruit, white peach
Coffee type: vibrant, juicy, sweet
Altitude: 1680 m.a.s.l
Area: Busiga, Ngozi, Burundi
Variety: Bourbon
Producer: various small holders
Process: washed
Roasted for espresso and filter
Wholebeans(100g or 250g NET)
Degassing: we recommend degassing this coffee unopened for at least 45days. Best from 50days to 70days post roast.
Burundi terroir represent 
This is our very first experience of Ngozi coffee. Busiga commune, where Rugori is located, has a pretty long history since the dynasty era and seems like Busiga has a amazing terroir for coffee production. Given that we are big fans of hard and dense washed coffees, we can honestly say this lot is the best Burundi coffee we've ever roasted: not just this coffee is vibrant with its amazing juiciness and sweetness, this coffee is quite dense and hard; that would represent the terroir, production quality and our roasting so well.
Cupping review
Rugori delivers tons of bright fruits flavors on its juiciness. Expect white grapefruit, lemongrass and white peach. Brilliant acidity balanced out with sweetness that we enjoyed the cupping session throughout. 
*Though we are sorting out defects after roasting and our greens have passed through mechanical/hand sorting at farm level, small stones can be found in coffee beans, it's not harmful to health as it's roasted but please sort them out before grinding to avoid risk damaging your grinder just in case.