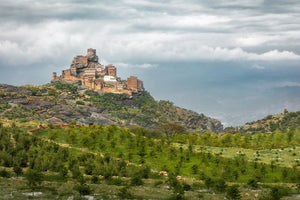 Apollon's Gold Specialty Coffee
Abdulhakeem
Sale price Price ¥3,400 Regular price Unit price / per
Tasting notes: lemongrass, passionfruit, violet
Type: bright, vibrant, thick body, bold sweetness
Area: Jarma village, East Haraz, Yemen
Altitude: 2183-2350 m.a.s.l
Variety: Ja'adi, Dawairi, Udaini
Process: natural
Roasted for espresso and filter
Whole beans(100g or 250g NET)
Degassing: we recommend degassing this coffee unopened for at least 40days. Best from 45days to 60days post roast.
A perfect Yemen coffee
We are so thrilled to offer this great coffee to you all! Been roasting Yemen coffees since 2020, we can honestly say this is the best Yemen we have ever roasted and this lot is different from what we have tried already; we were so surprised. Very clean and bright with exciting tropical notes and florals. Thanks to the highland of Yemen terroir, this coffee is pretty hard and dense, that allowed us to develop the body and sweetness at maximum.
Cupping review

This lot delights with bright passionfruit flavors followed by violet florals and hints of lemongrass. 
*Though we are sorting out defects after roasting and our greens have passed through mechanical/hand sorting at farm level, small stones can be found in coffee beans, it's not harmful to health as it's roasted but please sort them before grinding to avoid risk damaging your grinder just in case.